I've been working lately on not needing to explain myself. There's a scene in the 10th Kingdom, where Virginia is having a meltdown and she says, "I still have this uncontrollable urge to just go up to people and say "My mother left me when I was seven!" You know, as if that would explain everything. And I miss her… And I hate her! And…and I miss her… And I feel like I was on a train and it crashed or something and no one came and rescued me."
I feel like this is what I've been doing my entire life. Just walking around with a dead brother storyline and a foster care storyline and a mentally ill mother storyline and a dead mother storyline and just waiting for someone to a) recognize that these stories are what make me broken and b) give a shit. And I feel like, with stand-up, I was able to share these stories, imperfectly, but enough that I don't have that urge anymore.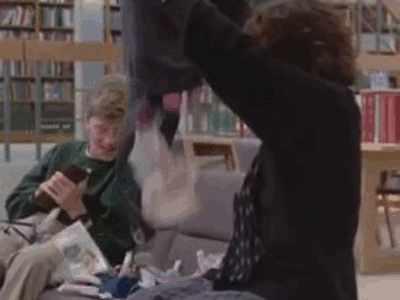 I Ally Sheedy'd, just dumped all of my baggage out on everyone I spoke to and for the first time in my life, I found people who didn't look away. Instead, they listened, and they had their own bags to dump out. I don't know what it is about the stand-up community that is different from any other set of people I've ever been around, but that is the only community I've been a part of that let me be sad and angry and whatever the fuck else I was.
But now, I have this weird normal job around normal people and if I say something dark, instead of people laughing, they get concerned. And that makes me miss stand-up but instead of feeling like I have to explain the joke or explain my existence, I just let them think I'm weird. And I don't care anymore. The urge to explain myself in real life has almost entirely faded.
This is not to say that I don't have anything to say. If anything, I have more to say than I ever did and I have a much better handle on how to express myself. But the need to be understood by every person I meet, in every interaction I have, is gone.
This is not to say that sitting down to write is less terrifying than it ever was. But I was watching a YouTube video with "tough love" writing advice for writers tonight, and it was the same old shit until she said, "find a way to make it fun". And I was like, holy shit, I make writing a chore. No wonder I don't want to do it.
So I searched YouTube for "how to make writing fun" and there was really only one video, and it was "how to make writing fun for kids". And I thought, if it'd work on kids, it might work on me. So, basically, the way to make writing fun for kids was a story generator set up by Scholastic. And it's cute, so I wanted to try it out.
I realized that the other thing that stops me from writing is that I want it to be good. It takes so much energy to talk myself into writing that I don't want that to feel like wasted time. And there are all these rules about writing. The very first piece of writing I ever showed to a professional in the publishing industry was responded to with a suggestion that I check out the Turkey City Lexicon. The Turkey City Lexicon is a list of tendencies new writers have. It's essentially a list of what not to do.
So, I've spend the last decade-plus figuring out how to write well so that showing my writing to other people won't be humiliating. But not wanting to be humiliated is just another thing that stops me from writing. So, I decided to take the writing prompt from Scholastic and pair it with the first rule in the Turkey City Lexicon — Brenda Starr dialogue. Essentially, you don't want to write blocks of dialogue that aren't anchored in a setting, with defined characters.
So I wrote a short story (see last post) that was a bunch of blocks of dialogue with as little setting, characterization, and narration as possible. And, damn, was that fun. And, damn, did I like the story. Is it well-written? Naw. But did I want to keep going and find out what happened next? Yes. So, maybe this is a writing exercise that will get me out of my head and and make writing fun.
In the movies, a character will go through a tumultuous experience and then sit down at a typewriter and their story will just pour out of them. I spent a lot of my life expecting that I would become a writer someday. I'd have that movie moment and it would be all I could do to keep up with the waterfall of words. But that isn't what writing is for me.
Writing is something that I want to do, all of the time when I can't, and none of the time when I can. My first day back at work after my mom died, one of my managers who knew that I had a complicated relationship with my mom and had her own complicated relationship with her parents, said to me that I was "free". She wasn't wrong. But in that moment, I hoped that she would never know how terrifying and lonely true freedom actually is.
When I have the time to write, and I sit down to do it, all of the potential for greatness and ineptness — and worse than either of those, mediocrity — come crashing down on me. I don't know how to make writing less important to me. I don't know if I should. But I would like to make it fun and I would like to thumb my nose at people who make rules that seem to restrict creativity more than encourage it.
What the hell is the point of the Turkey City Lexicon? Why isn't there an equivalent list of specific things TO do in order to write a good story? Why are we, as human beings, so much more responsive to being torn down than being built up? It seems antithetical to me, to create a list of what NOT to do in order to encourage people to create more powerfully.
So, fuck the Turkey City Lexicon and fuck any rule about what not to do.